Turkey's Quest for a New Middle Eastern Order
Turkey, together with Russia and Iran, appears cautiously engaged in an attempt to broker an end to the bloodshed in Syria through a newly declared cease-fire between the regime forces and different non-jihadist rebel groups.
Turkey's motives behind its work to create a long-lasting cease-fire and its anti-ISIS [Daesh] military campaign launched in August 2016 are not too complicated to grasp.
Turkey is attempting to neutralize the devastating effects on its national security, political economy and foreign policy of the five-year civil war in neighboring Syria.
Despite spending five years working with its Western allies in its attempts to end the Syrian civil war, Ankara now seems convinced that a Western-led peace resolution in Syria is unlikely, yet not impossible.
The low profile maintained by the United States in the Syrian crisis, combined with the conflict's complexity, characterized by a chessboard of diverging interests of multiple state and non-state actors, has dimmed Turkey's hopes for a stable Syria in the short run and increased Ankara's conviction of the impossibility of reaching a total end cease-fire without Russia.
Turkey's shifting Syrian policy has thus gradually become more flexible and adaptive to non-U.S. led options for a permanent solution to the Syrian quagmire.
In addition, prevailing uncertainties regarding the upcoming Trump administration's Syrian policy and its approach to Russia and Iran, two key actors in the ongoing civil war, have pushed Turkey towards the latter two with the aim of achieving more concrete and immediate results from peace negotiations between the Bashar al-Assad regime and rebels.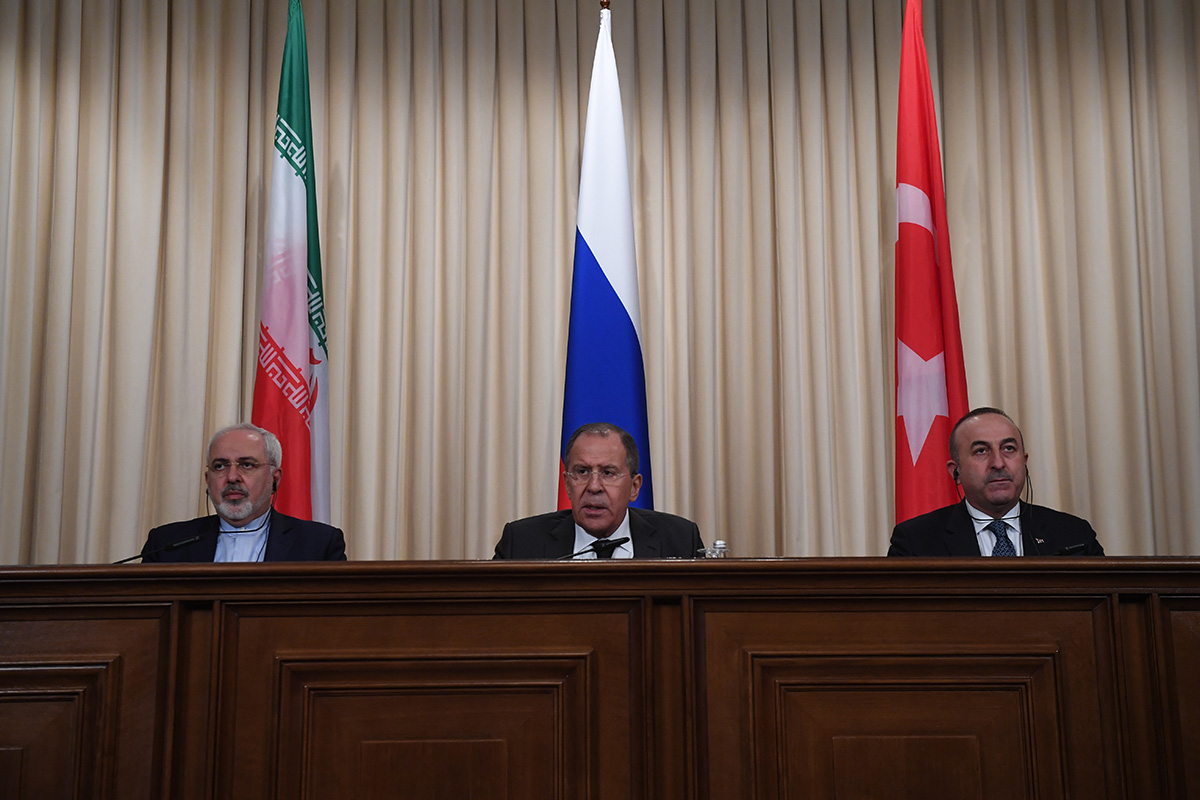 For those observing the main contours of Turkish foreign policy since the Cold War, Turkey's rapprochement to Russia at a time of conflict with the U.S. and EU is not a surprising development.
Turkey's pragmatism towards Russia triggered in the aftermath of the famous Johnson letter episode in 1964 reached its peak with the American embargo (1975-1979) and in the end resulted with Turkey being Soviet Russia's most important aid receiver despite their deep ideological differences.
Turkey's recent meeting with Russia and Iran in Moscow to establish an ad-hoc coalition aiming to reach a peace deal between the Assad regime and rebel groups has a historical precedent. It should thus be understood as a continuity of Turkey's traditional realpolitik approach to Russia and a response to the changing balance of power and regional circumstances in the Middle East after the Aleppo battle.
Regional actors on display or an unlikely alliance in the making?
The battle of Aleppo is likely to be analyzed as a game changer in the course of the Syrian war in the sense that it led to a rapprochement between Turkey and Russia on the subject of Syria.
Turkey-Russia collaboration during the evacuation of civilians from Aleppo and the later participation of Iran found a new diplomatic ground in Moscow, resulting in a cease-fire agreement on Dec. 29. As of today, positive signs of the durability of this cease-fire brokered by Turkey, Russia and Iran can be seen, raising hopes for a permanent solution in Syria.
As announced by President Recep Tayyip Erdogan on 4 Jan. joint efforts by Turkey and Russia for a permanent Syria cease-fire and political solution have resulted in promising developments.
It seems clear that not only Turkey but also Russia and Iran seek to permanently end the war on a trilateral ground as a first step and, as a second, to join their efforts in fighting ISIS.
Despite their differing priorities and interests, it is not surprising that these three states appear to have reached a common understanding on Syria.
All actors involved in the very volatile Syrian crisis, Western and non-Western, have supported the emergence of short-lived and issue-based ad-hoc alliances, such as the U.S.' short-lived coalition in the fight against ISIS with the PYD-YPG in Northern Syria.
The Turkish-Russian-Iranian ad-hoc coalition explained above may also be seen as an indispensable alliance as all actors have Syrian policies that are mutually interdependent for success.
Currently fighting in Syria independently, all three actors are deeply involved in the crisis logistically, diplomatically and militarily. It is therefore in their immediate interest to stabilize Syria through diplomatic means.
Whatever the consequences of their trilateral gathering, there is no doubt that their regional actions in the Middle East will gain further legitimacy in the field of peace-building and mediation.
On the other hand, this trilateral initiative is likely to make Russia's presence in the Middle East permanent in the absence of other major actors on the ground. It is also probable that, with the end of the civil war, Russia will no longer be treated as an outsider in the Middle East.
Turkey's terror quagmire
If successful, the Syrian peace deal will have significant repercussions on Turkey's two-front fight against PKK and ISIS terrorism. In the last month, Turkey has seen a new wave of terror attacks posing a great threat to its homeland security.
In addition to PKK-led terrorist attacks in Istanbul and Kayseri in December, the very first few hours of 2017 brought a new shocking act of terrorism at a famous Istanbul night club, causing 39 deaths, including those of 25 foreigners. Although the gunman has not yet been caught, evidence points to an ISIS-organized attack committed by a foreign fighter from Central Asia.
For the Turkish authorities, the increasing and diversifying terror threat against Turkey is a consequence of the spillover of the Syrian civil war into Turkey.
Factors including the existing ethnic and religious ties with the regions and the geographical proximity and length of the Turkish-Syrian border have made Turkey more vulnerable to the contagious effects of the civil war.
Turkey's fear of an establishment of a de-facto Kurdish state in northern Syria with the support of its Western allies has also led Turkey to work with Russia to find a middle ground for a Syrian peace deal and in fighting ISIS in both the regional and international spheres.
If the recent Turkish-Russian-Iranian initiative succeeds as a further step towards a permanent political solution, the PKK-affiliated Kurdish terrorist groups, the PYD-YPG, will remain as the most debatable topic of the post-civil war Syrian settlement.
All three countries have expressed their opposition to a possible division of Syria into zones of influence, giving signals as to their stance on the unity of Syria. How to jointly fight against ISIS remains another important topic on which the three actors should agree, at least in grand lines, for a possible permanent Syrian peace deal.
The future of Syria now appears to be mostly left to the hands of regional actors rather than the major Western powers. Turkey's quest for a new Middle Eastern order is highly dependent on the extent to which all regional actors can minimize their differences in their Syrian policies. The absence of the EU on the scene and the uncertainties around president-elect Trump's Syrian policy give Turkey, Russia and Iran sufficient room for maneuver in redesigning the future of Syria.
This article was originally published on Anadolu Agency. Read the original article.
This article is published under a
Creative Commons Attribution-NonCommercial 4.0 International licence
.